This is just going to be me gushing about my husband and all his awesomeness. You've been forewarned.
It's not our anniversary or anything but it doesn't need to be a special day for me to fawn over him.
I first met Jordan back in high school. I was a senior and dating a real D-bag. And he was a junior who was in love with music and hanging out with his friends.
Fast forward about 4 months, he asked me for my e-mail address so we could talk on MSN Messenger so we talked all Christmas break and late one night, I was talking to his friend Jordan (same first name, we call him Tram though) and Tram let it spill that Posey (Jordan) was in love with me! I was taken aback because I never really thought much of him as a boyfriend, he was just really cool. Then one day in January, I went to the mall with him, Tram and their friend Shaun. I knew that he liked me and I started liking him. Then a couple days later, the boys came over to where I worked. It was a local public access channel and I was there by myself and they were wreaking havoc all over the building. The time came for me to go home and Tram had shut off all the lights and that's where Jordan and I shared our first kiss.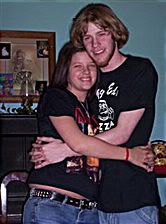 That's us in May 2004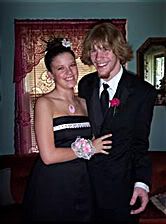 My senior prom.
I had graduated High school and was still living with my parents. Until January 2005 when we got the bright idea to live together. His mom had remarried and moved in with her new husband in a tiny 2 bedroom trailer so we pretty much had to. And I couldn't stand living with my parents.
Us in our small, gross basement apartment.
Then, in September of 2005, I moved to Tennessee with my cousin. So I could get out of our small, black hole of a county and so I could go to school. At the same time, Jordan was planning on enlisting in the Marines. I wasn't scared or worried for him. This had been one of his dreams since he was a little boy. I told him I'd be there every step of the way.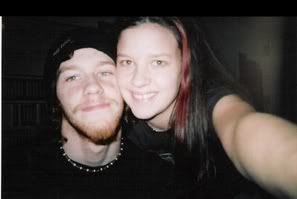 One of the last pre-Marines pictures I have of us.
He left on Halloween 2005.
Three months and countless letters later, my cousin Jami and I made the long drive from Tennessee to see him graduate and pin on his Eagle, Globe & Anchor.
He was a totally different person, no longer was there the slob I had known before but he wouldn't even let me sit o his bed because I would wrinkle it!
Fast forward 6 months, Jordan had all of his training finished and was now in the fleet. We had toyed at the idea of getting married but neither one of us had the funds to have a big wedding. So, my two best friends, Jamie and Sybil and Jamie's new boyfriend Jason all went down to north Carolina so I could get hitched.
Us before we left
Mr. And Mrs. Posey
So I moved to North Carolina a month later. I got a job and spent many a night alone due to the work up for the upcoming deployment.
Which happened in January 2007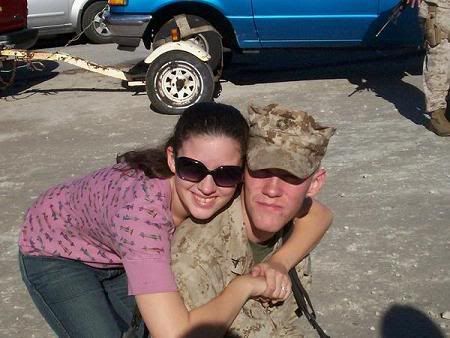 And a homecoming
Then two months later, I found out I was pregnant.
And another deployment came...more goodbyes.
And Rosslyn was born
And another homecoming came
And so here we are, almost a year after our last homecoming and just mere months from him getting out of the Marines. I really do love him a lot. He is my best friend and my confidant. I have learned so much from him and I cannot imagine a day without him. I love you so much, Jordan.